Collapsible content
Book Special Orders

We are very good at tracking down new & used books. We appreciate you sharing as many details about each book as you can, including:

ISBN
Title
Author
Publication Date
Desired format (hardcover / softcover / etc)
Desired condition (new, used-very good, used-good, etc)

It may take us a few days to respond, as we research the book(s) you want and find a seller who has an acceptable copy for you.
Special Event Requests

Let us host your next small group gathering. We can host groups of 10-12 people comfortably. Upon request, we can also have your event catered by Mini Batch Bakery, including a sandwich and salad selection. We are also able to sell tickets to private events.

Please let us know the date & time of your event, and we will get back to you as soon as we can to let you know the cost & details. Thanks!
Other Questions

What kinds of books do you sell?

We sell new and used books for all ages.

Look under "special orders" for more information about how to request books that we do not currently have on our shelves.

Do you take trades or donations?

Yes, we do!

For donations, please bring books that are in good condition or better.

For trades, please bring books that are in very good condition or better. Once we have processed your trades, which can take up to a couple weeks, you will have store credit that you can use for up to half of your future used book purchases from us!

Do you take returns?

Yes, we do, and—due to the nature of bookselling—we only offer store credit, not cash refunds.

We are happy to take returns of new books, within 7 days of original purchase with a receipt, in exchange for a full refund of store credit.

Returns of used books will be handled on a case-by-case basis. To count as a return, the book must be in the same condition in which it was sold. If the book is no longer in that condition then you may absolutely bring it back, but it will automatically be treated as a trade and you will receive partial credit of the full amount you paid.

Do you take special orders?

Is there a specific book you're looking for that isn't on our shelves? We have decades of experience hunting down obscure books just for fun, please let us use our skills to assist you!
Contact us, message us through Facebook, or come in person to chat about your needs and we will do our best to find you exactly what you're looking for at a reasonable price!

Where do you get your books?

Megan is our new book finding wizard.
Betsy forages for our used books all over the internet and all over town.
Betsy doesn't even need an excuse to shop for books, carefully sifting for the diamonds in the rough so that you can then find them on our shelves!
We also have many lovely customers who have brought in stacks of books for trade and several friends who have graciously donated books from their personal libraries in order to help us diversify our shelves and get started! We appreciate you all!

How do you price your used books?

Pricing books is more of an art or balancing act than a science, but I'll give it a shot!

We gather data from several places for each used book and try to be reasonable about. So you won't find too many better deals online than you will in our store.

Details:

We look at how many copies are available online.
We think about how often we've seen the book available in thrift stores or at rummage sales.
We read reviews and consider how relevant the book is likely to be for our community.
We look at the online pricing over several platforms.

Then…

We try to price books in such a way that you all can find good used books for a competitive cost and we can afford to pay our bills!

If you have any questions about why a book is priced a certain amount, we can absolutely explain why. Feel free to reach out anytime! 

Do you sell anything else?

In addition to our new and used book selection,
we also feature a variety of quality products from local artists.
Our cafe offers self-serve coffee and other hot beverages, snacks, and delicious local pastries from Hendersonville's own Mini Batch Bakery!
Off the Wall Books N Cafe
2000 Spartanburg Highway Suite 400
Hendersonville, NC 28792
828-435-2297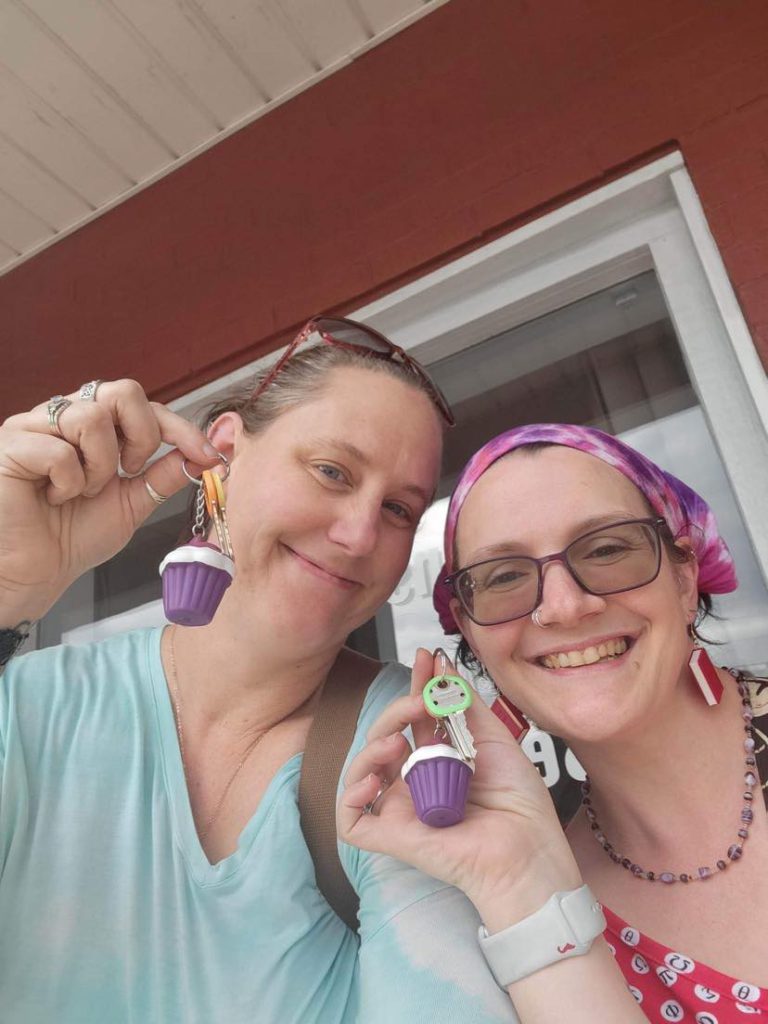 About Us
Megan and Betsy have each dreamed of owning their own bookstore for a long time. This was only a pipe dream until fate brought them together to make that dream a reality! Off the Wall Books has been serving the Hendersonville & Flat Rock area since June of 2023.
Thank you to our amazing community for your faith, trust, and a little bit of pixie dust. 💖✨
Dreams do come true.
Meet Betsy & Megan